"Great things in business are never done by just one person.
They're done by a team of people"
Steve Jobs - Apple Founder

---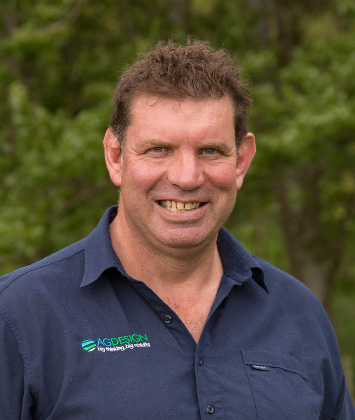 TOM CHISHOLM
Tom is the heart and soul of AgDesign. Born and raised on sheep and beef property in Hunterville in the Rangitikei region of NZ, Toms passion for farming the land started very early on in life. His passion led him to study Agriculture (Majoring in Production Management) at Massey University and post study, work on the beef property of founder of Technograze, Harry Weir. In his time at Harry's, Tom developed an intimate knowledge of how land, environment and animal interact, deepening his understanding of farm systems. Moving from the Manawatu, Tom began installing and operating large scale systems both Australia and NZ. As of result of these experiences, Tom saw an opportunity to take his passion to the marketplace, offering farmers a complete farm system design business. AgDesign was born and over the past 20 something years tom and now his team have broadened their abilities and work in wide range of primary industries including beef, sheep, dairy, and horticulture.
---

---
SANDY CAMPBELL
Sandy heads up the AgSupport part of AgDesign extracting maximum value out of systems for our clients. Originally from the UK, Sandy worked on Cropping sheep and Beef farms since a young age being very active within the agricultural community. Sandy completed a National diploma in Agriculture followed by a BSc (hons) Degree in Ag at Harper Adams University. "I have always had a keen interest in pasture based red meat production which has further developed over time, I have trained and studied specifically in the art of techno and cell management after learning of its existence in 2015." Sandy is extremely passionate about the future potential and need for highly productive forms of sustainable red meat production, and looks forward to a long and prosperous career developing myself and the clients he works with.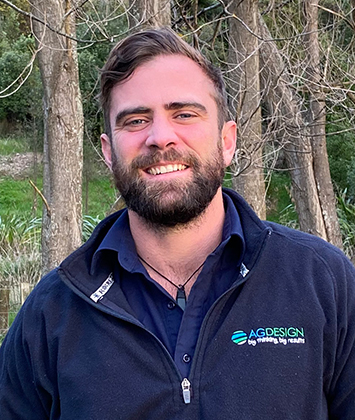 ---

---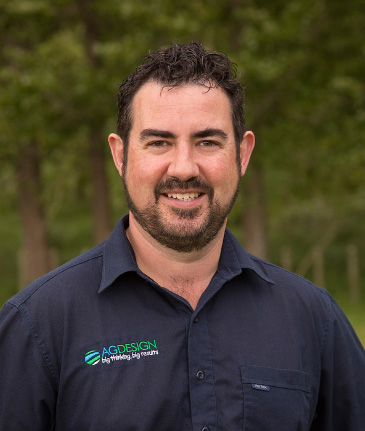 CAMPBELL DODDS
With 20 year's experience Campbell carries an extensive background in Environmental Management, having worked in both the public and private sectors. Campbell has a passion for the Environment and sustainable business practices, that achieve greater outcomes from an environmental, economic and people perspective. Prior to joining AgDesign he spent the previous 10 years as an "Environmental Manager" with Fonterra. He is highly experienced in Environmental Management including Resource Consenting and Compliance, Water & Wastewater treatment, operational performance and farming practices. Campbell has worked on numerous large scale projects in the above areas. Currently the regulatory requirements in the environmental space on farm is growing rapidly across all regions in NZ. Campbell is keen to see clients achieving the best results they can and is happy to assist in any of these areas.
---

---
SHAUN LASH
Shaun grew up working alongside his parents on a 133ha dairy farm near Midhirst, Taranaki. Growing up on a dairy farm you quickly develop a passion for the land and soon respect the hard graft required in order to make a dollar. This upbringing drove Shaun to pursue a career in agricultural and led him to further his knowledge by undergoing a bachelor's of Agri science majoring in Agricultural at Massey University. After completing his time at varsity in 2017, Shaun returned to the home farm for a brief stint before joining the AgDesign team in May 2018. Shaun has a passion for both sustainable grazing management and business practices and enjoys the variety in the role at AgDesign. Getting out on farm face to face with clients, building long lasting relationships with clients and understanding what clients and trying to achieve is what drives him to get out of bed every day.