There's only 2 reasons you wouldn't run an AgDesign scalable grazing systems, the first is you are so rich that is doesn't matter and the second is, you're f@"?!! stupid.
TOBY LYNN – BULL BEEF FARMER. NORTHLAND.

SCALABLE GRAZING SYSTEMS
At the core of AgDesign farm system designs, is the use of Kiwitech's grazing management flagship product,
TechnoGrazing™. The hallmark of "TechnoGrazing" is that it enables extremely small subdivisions with very
efficient logistics and a low labour input.
TechnoGrazing evolved under intensive grazing with bull beef, which necessitates small stable social groups
to reduce fighting and social stress. Those principles apply to all stock classes to make grazing systems more
effective at converting grass into meat, milk and fibre.
The best part – this whole process is scalable. The example below shows a complete all farm development plan but the actual work was done over time. This is just one example – we can work with you and tailor the development to suit your needs.
---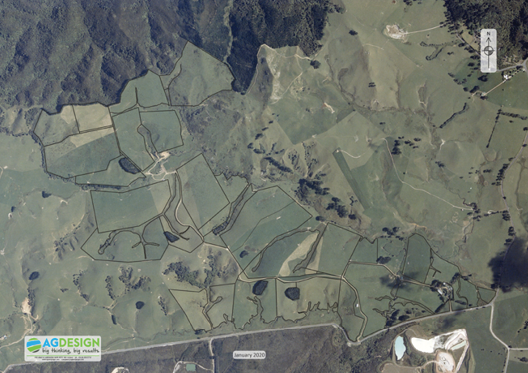 PHASE 1 – UNDERSTANDING THE LAND
As with every project out starting point is understanding the land. The experience we take into projects gives us a head start but every project is different, soil types, heights, contours …. you name it, we think over it and work with it. Looking over the land enables us to work with you to start to develop a stage-by-stage implementation plan.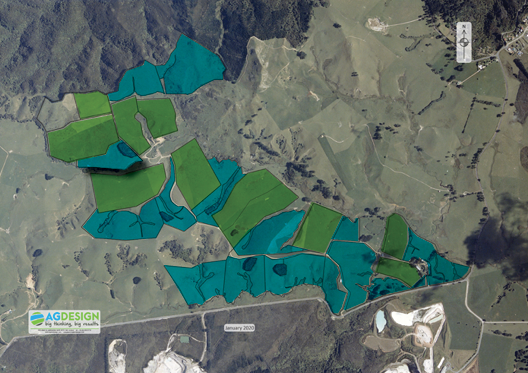 PHASE 2 – CONCEPTUALISATION – LAND USE
To maximise the gift of the land & pastures given to us, we have 2 main options for grazing systems. 1. 'Lanes' (green shaded areas) are long line sections with regular markings for ease of adjusting feed allocation where 2. 'cells' are set size grazing spaces. The nature of the land being grazed and the ability to invest, usually dictates the decision to have lanes or cells.
---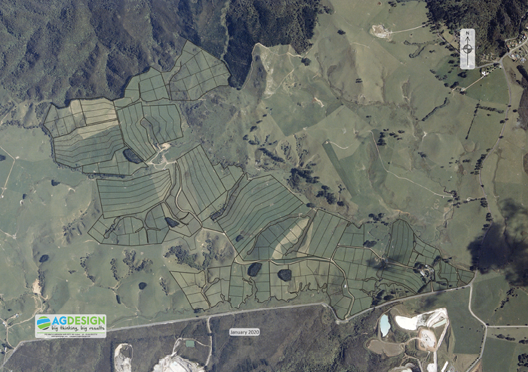 PHASE 3 – DETAILED DESIGN
With all things considered the detailed design phase is refining the lanes and cells into the holistic grazing system. (Animal numbers, mob sizes etc).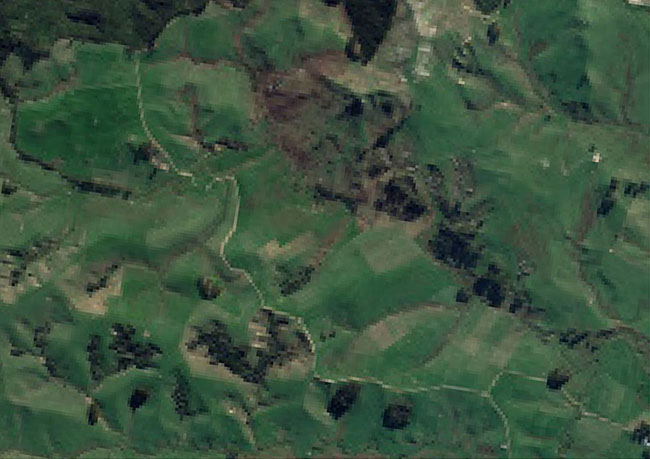 PHASE 4 – RUNNING THE SYSTEM
This is the latest Google Earth image of the farm under the new grazing system.

---
It all starts with a conversation.
Get in touch with us.
In conversation we learn about you, your farm, scalable grazing systems, farm development, farm improvement, your land and your long-term visions. We'll learn about how you farm and your drivers for change. Then, together, we'll map out a plan for change for your farm to be the most efficient, profitable grass-based system it can be.