WATER SYSTEMS DESIGN
Quality water is essential for efficient animal production. AgDesign have designed water systems for a wide range of enterprises including large scale dairy conversions and Sheep and Beef intensification projects.
AgDesign use accurate GPS for contour information and purpose designed software to ensure that we match your water system to your animal requirements. As you implement your AgDesign grazing system your drinking water requirements will be likely to increase. It is important that these needs are anticipated and designed for. You can install your water system in stages confident in the knowledge it is future proofed without over sizing and wasting money.
---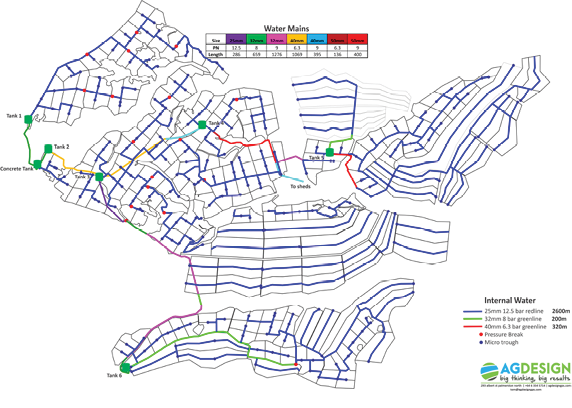 ---
PHASE 1 – DESIGN & DEVELOPMENT OF WATER SYSTEM – ITEMISED COMPONENTS LIST
Water is much more complex than many think. Our job to design a system that work in all conditions and create a parts list down to every last fitting. Like we said, understanding water is second nature to us.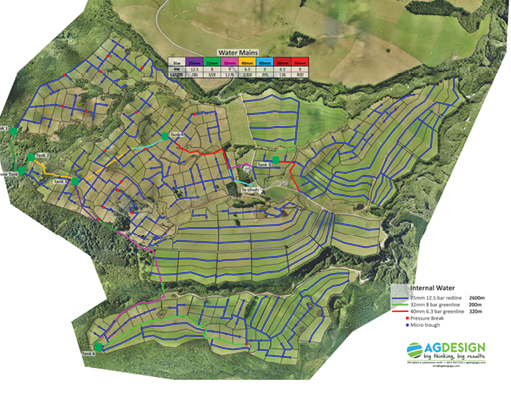 ---
PHASE 2 – INSTALLATION, OVERSEEING AND QA
We stand by our design to the end. We over see the projects with contractors ensuring the projects are carried out to the AgDesign standard. Prior to the commencement of any project we will have a contractors agreement and the project is live on BASECAMP.

---
It all starts with a conversation.
Get in touch with us.
In conversation we learn about you, your farm, water systems design, farm development, farm improvement, your land and your long-term visions. We'll learn about how you farm and your drivers for change. Then, together, we'll map out a plan for change for your farm to be the most efficient, profitable grass-based system it can be.